Some of you may have been to some of these , some just know them by stories or photos, here are some of the greatest pictures of sports
1 : Muhammad Ali and Sonny Liston – May 25, 1965 – In one of the most epic sports picture ever taken , Muhammad Ali knockouts Sonny Liston in just the first round in their rematch heavy weight fight. Muhamad will remian champion until 1967 when he was stripped from his title for refusing to enrol to the army
 
2 : Billy Kilmer and Manny Fernandez – Super Bowl VII, Jan. 14, 1973 –  The first and last team in NFL history to finish a perfect season , Miami Dolphins defensive lineman Manny Fernandez jumps over a redskins offensive lineman to try to sack the quarterback Billy Kilmer , Fernandez finished the game with 17 tackles and the Dolphins won the game 14-7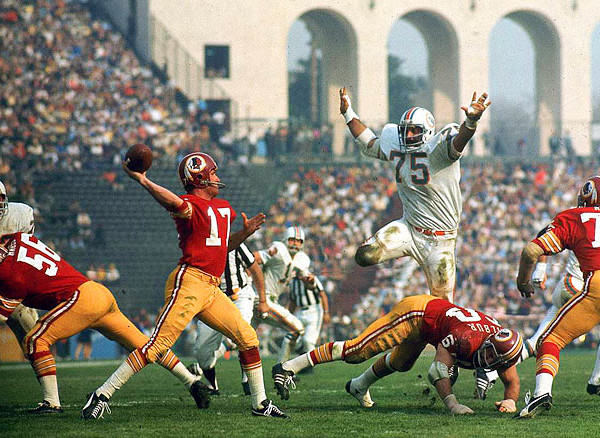 3 : Michael Jordan – All-Star Weekend, Feb. 6, 1988 – The 88 slam dunk contest is considered the best ever because of the michael Jordan and Dominique Wilkins duel , Michael would win this battle with a unforgetable dunk from the free throw line that earned him a perfect score of 50. this was the second straight year the bulls star have won the slam dunk contest
4 : Nadia Comaneci – Montreal Summer Olympics, Aug. 2, 1976 – Nadia Comaneci from Romania In her amazing somersault in the 1976 Summer Olympics , she was the first ever to get a perfect score in a gymnastic event and she won three gold medals in that year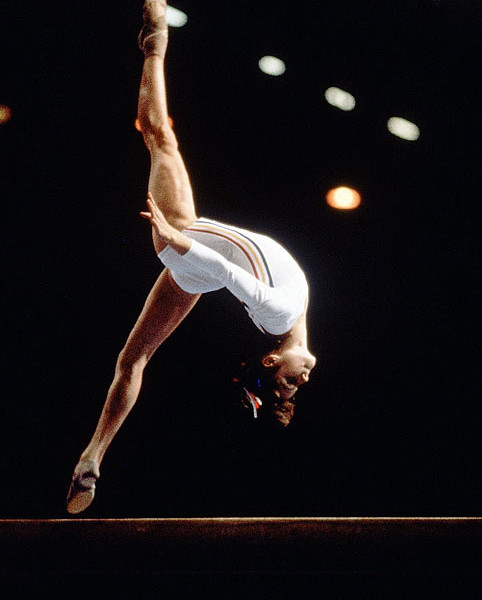 5 : Another fighting classic – Carmen Basilio and Tony DeMarco – Nov. 30, 1955 – A great shot of Carmen Basilio (right) jumping in joy on to his corner man after knocking out Tony DeMarco in the 12 last round to win the world welterweight title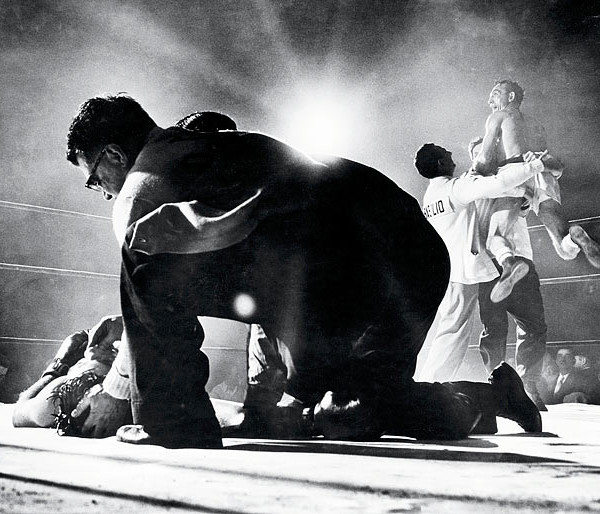 6 : Chuck Bednarik and Frank Gifford – Eagles at Giants, Nov. 20, 1960 – Linebacker Chuck Bednarik knocked out of the game running back Frank Gifford at the Eagles at Giants game . the hit was so strong Gifford temporarily retired from football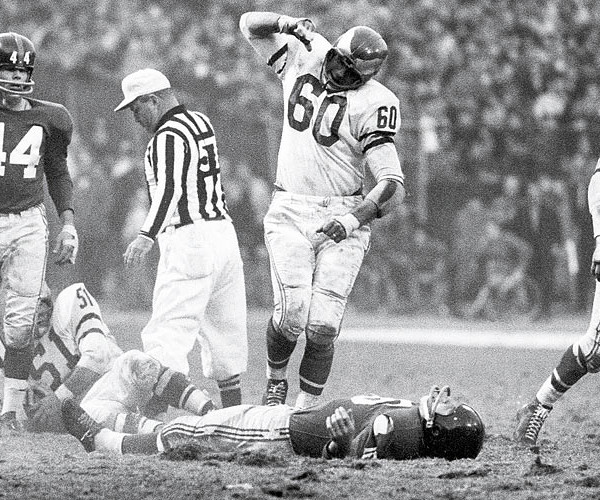 7 : Matthias Steiner – London Olympics, Aug. 7, 2012 – Weightlifting champion Matthias Steiner from germany loosing his balance trying to lift an amazing 432 pounds and was hit in the neck by the barbell, he managed to get up and wave to the crowd by later withdrew from the competition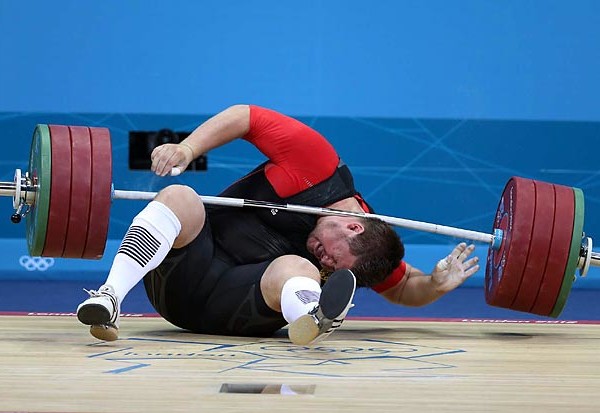 8 : Kyle Whitaker – Dodge National Circuit Finals Rodeo, March 17, 2005 – Losing his boot while flying off Dump Wagon at the saddle bronco riding rodeo,Kyle Whitaker will go on finishing in place 22 out of 24 competitors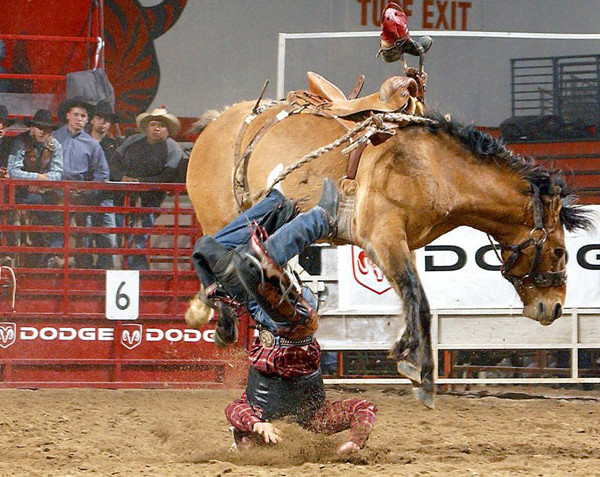 9 : Bob Beamon – Summer Olympics, Oct. 18, 1968 – Bob Beamon of the USA athletic team setting a new world record in Mexico summer olympic games that would last 23 years , he leaps for 8.9 meters and stunned the crowd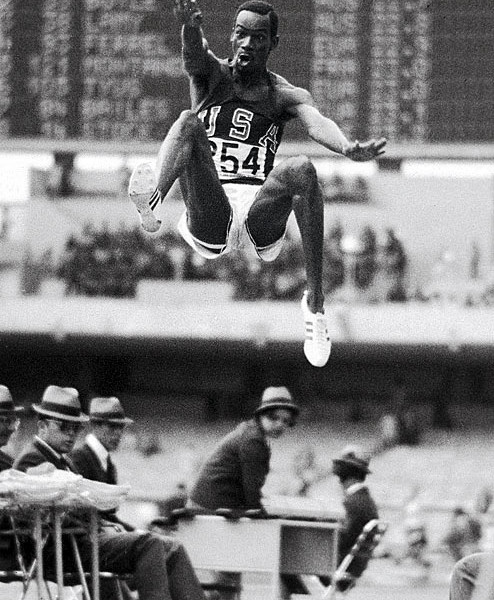 10 : Michael Phelps – Beijing Olympics, Aug. 16, 2008 – Wining his eight gold medal at the Beijing Olympics , Micheal Phelps just out touch his opponent Milorad Cavic from Serbia by 0.01 seconds . this amazing shot captures it perfectly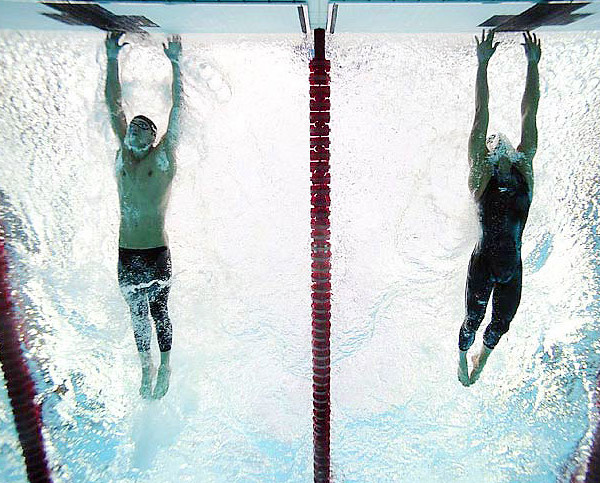 11 : Reggie Bush – USC vs. UCLA, Dec. 3, 2005 – The now NFL super star Reggie Bush in his college days jumping over UCLA defender to score a touchdown. because of his amazing season that year he won the 2005 Heisman trophy but later lost it due to him accepting illegal benefits during his time with the Trojans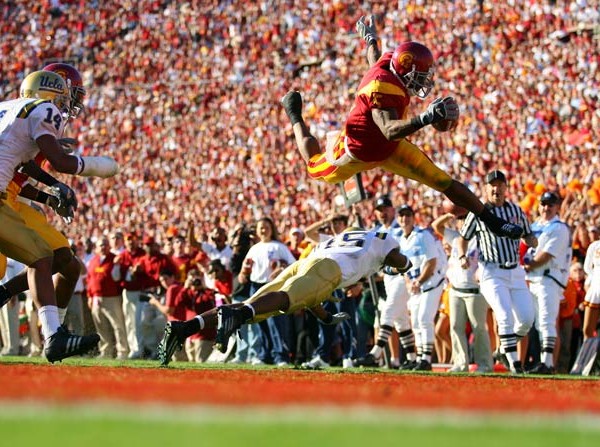 12 : Brandi Chastain – Women's World Cup, July 10, 1999 – Brandi Chastian of the USA women's soccer team celebrates after scoring the game wining penalty kick in the 1999 world cup final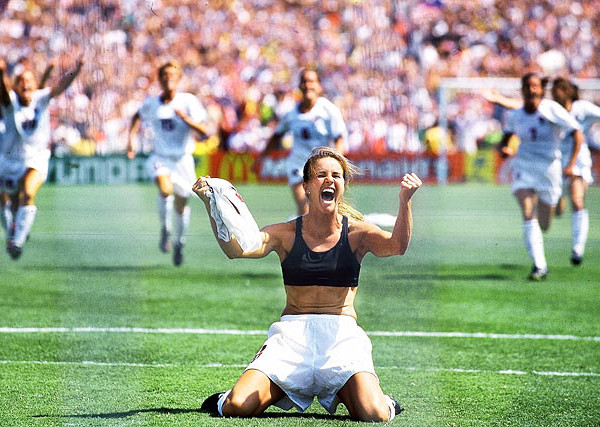 13 : Bob Cousy – Pistons at Celtics, Nov. 19, 1955 – Back than it was strange when a player dribble behind his back or pass the ball with out looking , they played a much more fundamental type of game, that is why Bob Cousy  from the Boston Celtics was great, here he out smarts two Pistons defenders
14 : Referee Jack Vaughn – Eagles at Bears, Dec. 31, 1988 – Known as the Fog ball , this Philadelphia eagles and Chicago bears game was played mostly in heavy fog . here is a picture of referee Jack Vaughn tries to follow the ball on  field goal attempt from the eagles kicker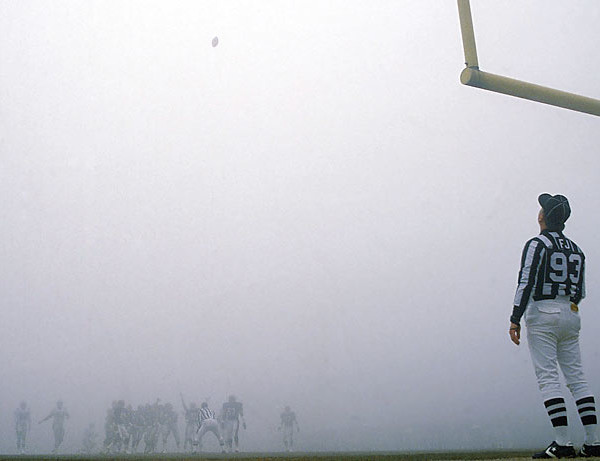 15 : Lew Alcindor – FInal Four, April 1, 1968 – Lew Alcinder makes his trademark shot , they won this game 101-69 in the national semi finals , and played in the " Game of the century "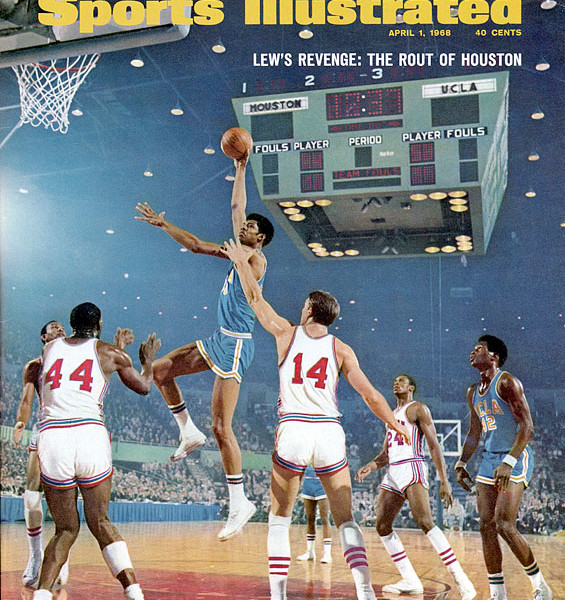 16 : World Series Game 1, Oct. 19, 1991 – Greg Olson – During the 1991 world series in-game one at their home field , Atlanta Braves Greg Olsen crashes on his head after tagging a Minnesota left fielder Out of the game. the team would go on to win the series in seven games after that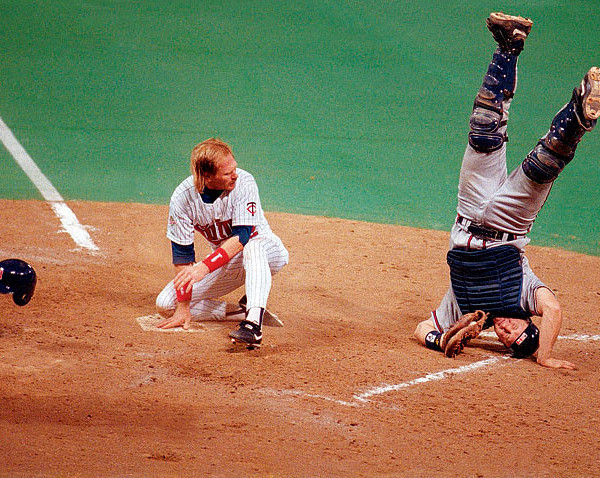 17 : Ervin Kovacs – Paralympic Games, Sept. 21, 2004 – Ervin Kovacs from Hungary competing for a meddal in the paralympic games 200 meter freestyle , he came inches away from the gold and lost the gold to the Chinese swimmer Junquan He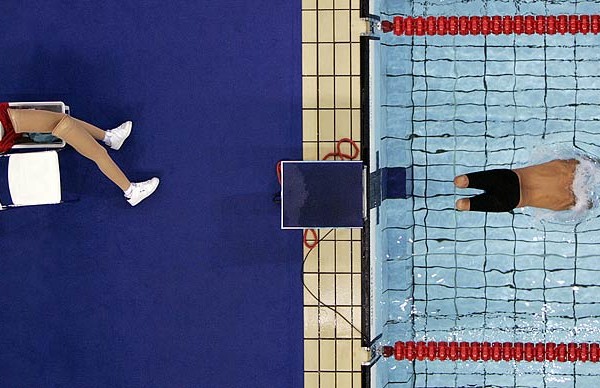 18 : Joe Namath – Bills at Jets, Dec. 8, 1974 – Legendary Jets quarterback joe Namath is listening on the ear piece during the bills jets game where the bills won 20- 10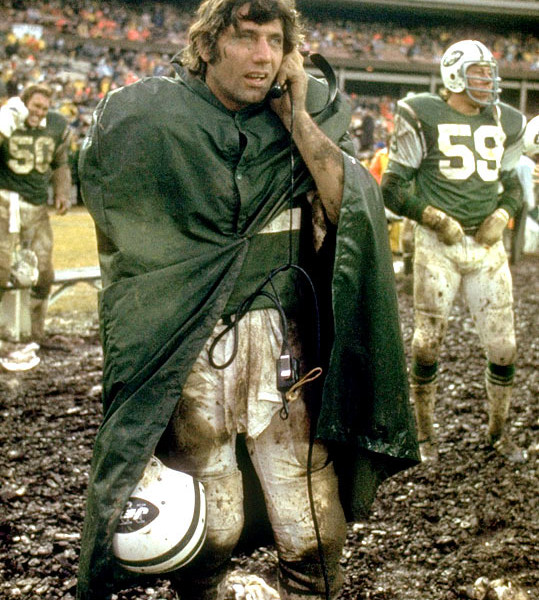 19 : Mike Tyson & Evander – Holyfield Heavyweight fight, June 28, 1997 – Mike Tyson bites the ear of Evander Holyfield in one of the most memorable fights ever, Tyson fighting license was temporary revoked and he had to pay a fee of 3 million dollars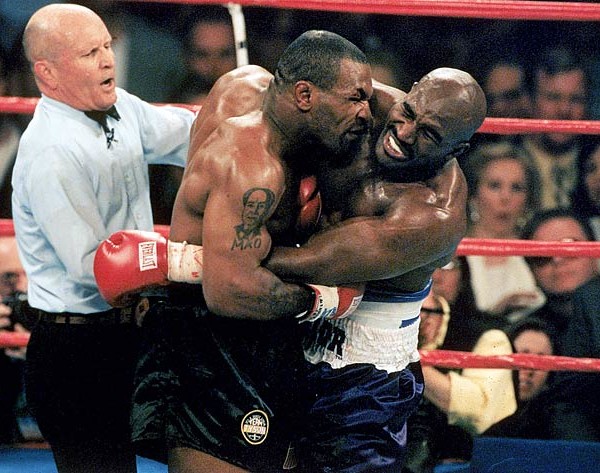 20 : Jacques Plante – Canadiens at Rangers, Dec. 18, 1957 – Canadian goalie Jacques Plante plays without a mask in the match between the Canadiens and the New York Rangers at Madison Square Garden. Plante was the first NHL goalie to wear a protective mask on every game, he started doing this during the 1959-60 season.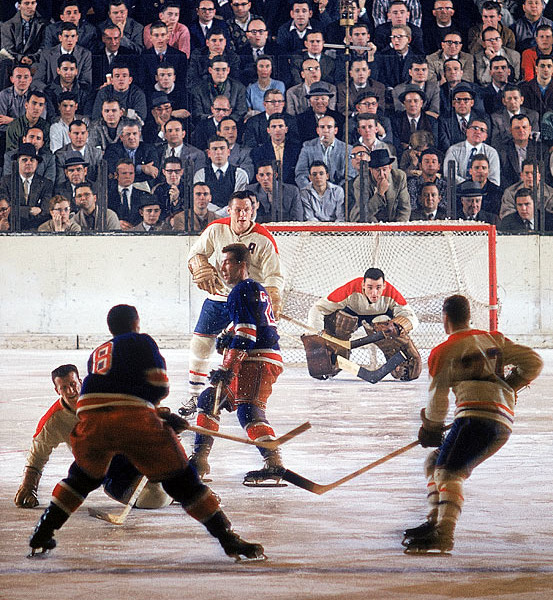 21 : Michael Jordan – Bulls at Jazz, Game 6, 1998 NBA Finals – Michael Jordan game winning buzzer shot is maybe the most memorable shot of his career , he retired from the NBA six months later but returned to the NBA in 2001 with the Washington Wizards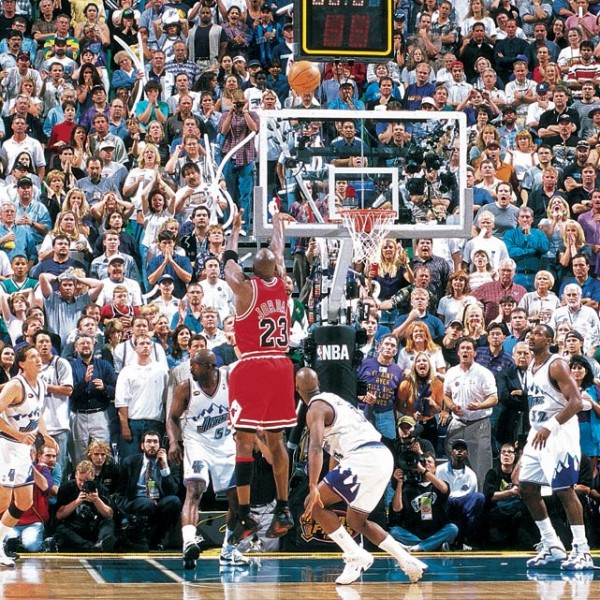 22 : Antwaan Randle El – AFC Wild Card playoffs, Jan. 5, 2003 – Pittsburgh wide receiver Randle El get his head all twisted around by Chris Akins from the Cleveland Browns during a AFC wild card match.the pittsburgh went on to win this game 36-33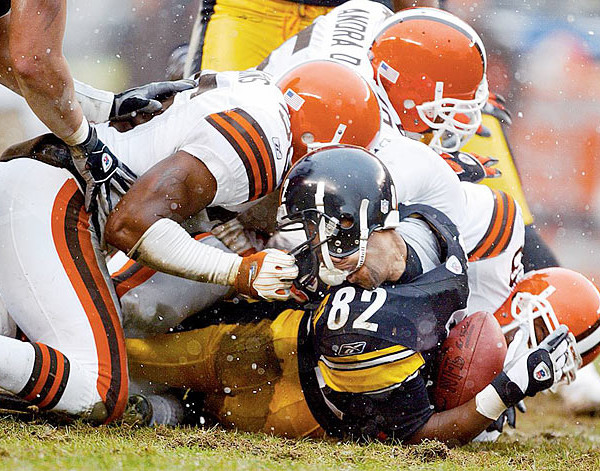 23 : Julius Erving – January 1977 – Famous NBA player Julius Erving WIth a great slam dunk against the Denver Nuggets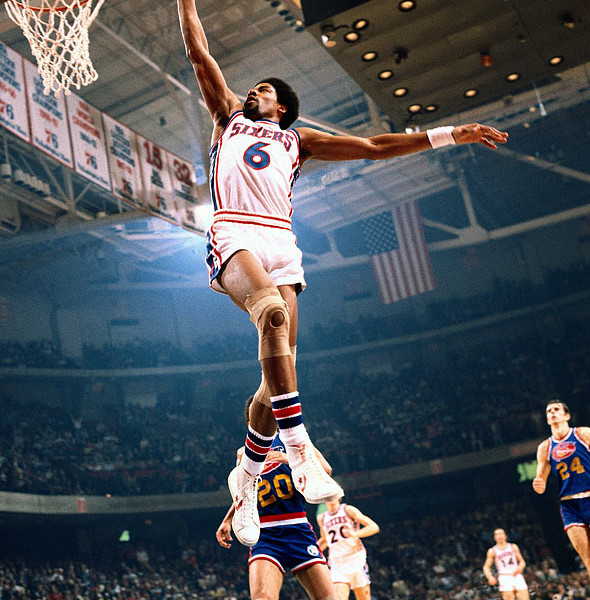 24 : Bobby Martin – Belmont High at Colonel White High, Sept. 24, 2005 – Bobby Martin Has no legs , he cant wear prosthetics becuase he has no thighs to affix them to. still that dosent bother him from playing football , the 112 pound man plays for the kickoff and punt team at the Dayton's Colonel white high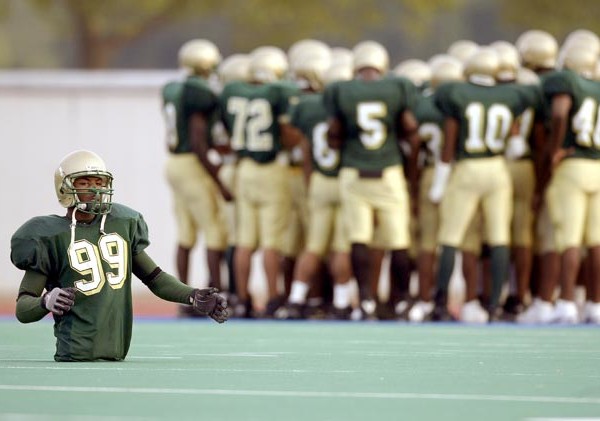 25 : Pete Rose – Reds vs. Cubs, August 1975 – Pete Rose was 4 for 9 and drew 8 walks during the series with Chicago – here he dives to third base at Wrigley field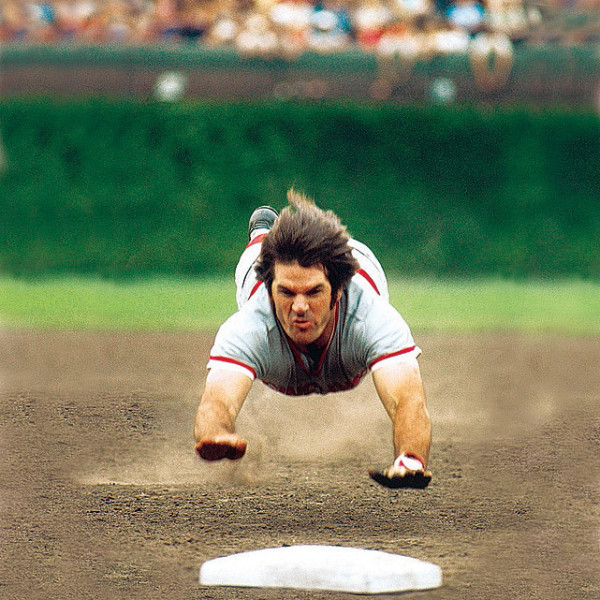 26 : Bobby Orr – Stanley Cup finals Game 4, May 10, 1970 – Bobby Orr celebrates the Bruins first cup in 29 years , Orr received the MVP honor , in the picture below he jumps in joy after scoring the winning goal over the St. Louis blues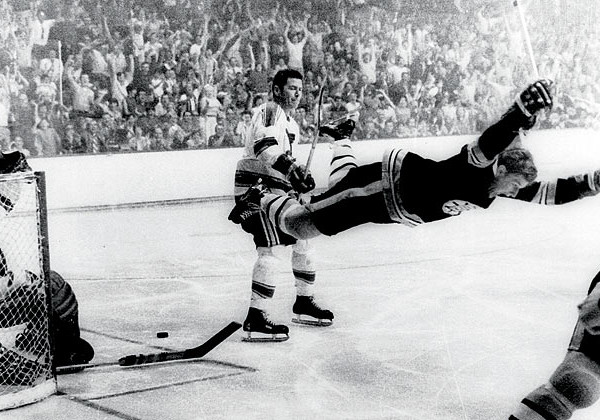 27 : Magic Johnson – Lakers vs. Celtics, Oct. 22, 1991 – Magic Johnson throwing a well-known no look pass during a Lakers Celtics game , about two weeks later he announced that he was HIV positive and retired from basketball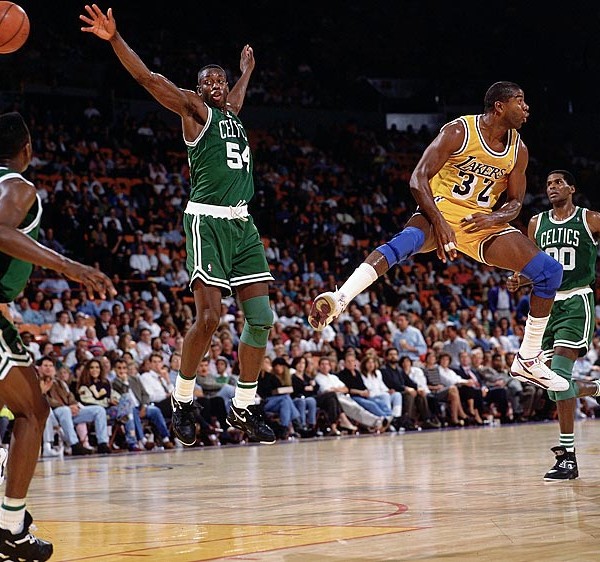 28 : David Tyree and Rodney Harrison – Super Bowl XLII, Feb. 3, 2008 – New York Giants Wide receiver David Tyree makes an unbelievable catch securing the ball with his helmet during the Giants Superbowl XLII win  17-14 on the undefeated new england patriots.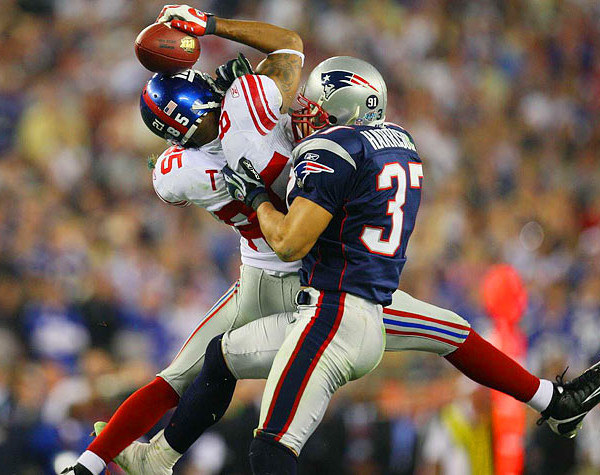 29 : Babe Ruth – 1926 – legendary Outfielder for the New York Yankees Babe Ruth AkA The great Bambino spend some time with his fans during his best season ever with 47 home runs and 146 RBI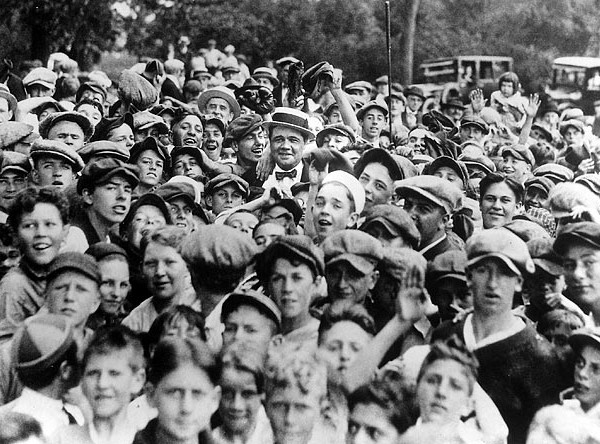 30 : Joe Montana – Super Bowl XXIII, Jan. 22, 1989 – Legendary quarterback Joe Montana leads the 49ers  down the field in a last-minute winning drive to win super bowl XXIII . only 3:10 on the game clock and 92 yards to go, Montana did it again and won the game 20-16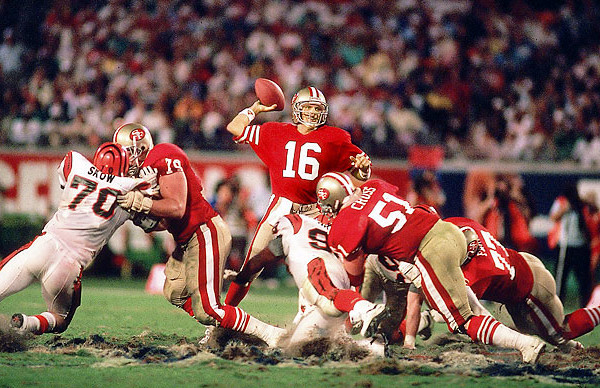 31 : Julien Leparoux and Sanibel Storm – Keeneland Race Course, April 28, 2006 – During this race the Jockey Julien Leparoux went flying off his horse after hitting the rail while in his stretch run, luckily neither the horse or Jockey were injured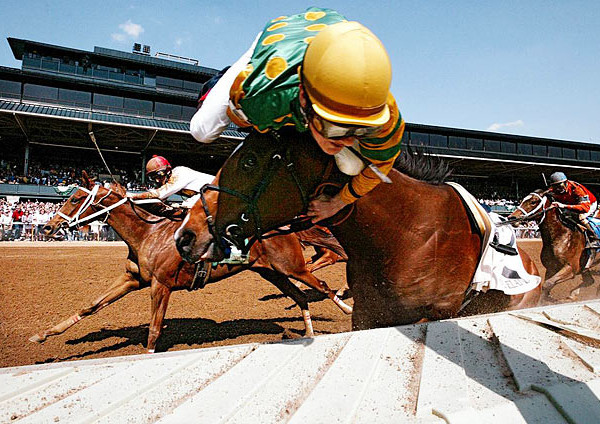 32 : Randy Moss – Vikings vs. Steelers, Dec. 22, 2001 – Randy Moss one of the most amazing wide receivers to ever play the game makes a fingertip catch for 62 yards in the fourth quarter in the 21-16 loss to the pittsburgh steelers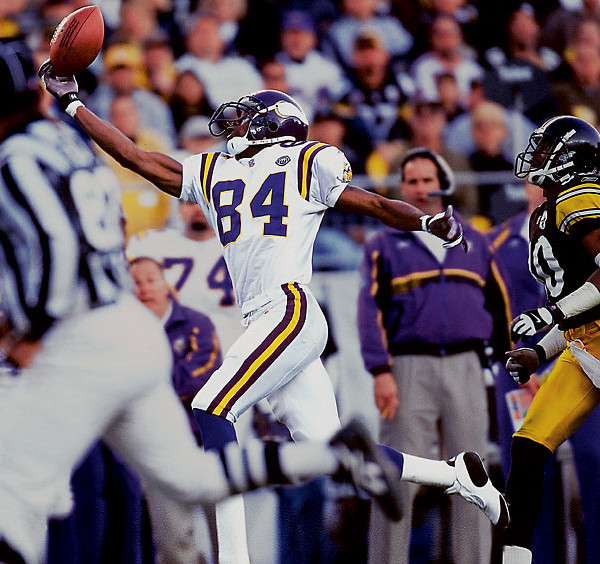 33 : Maxwell Fornah and Victor Musa – Sierra Leone, April 6, 2006 – A sad reality in Sierra Leone , single leg amputee sports club is chasing the football in Freetown  – Sierra Leone was left with over 6000 amputees after a brutal civil war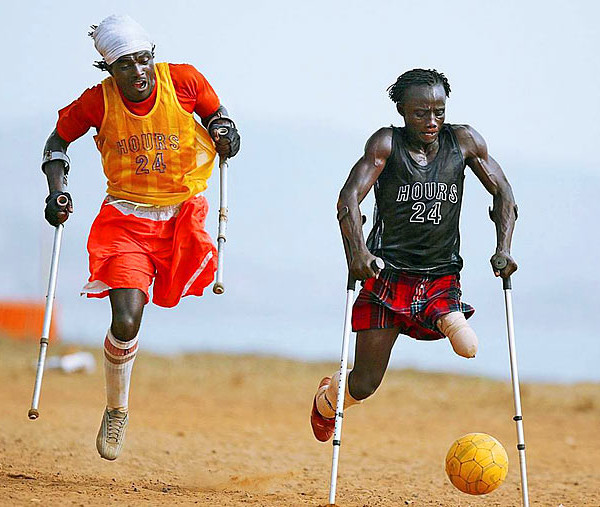 34 : Alan Ameche – NFL Championship Game, Dec. 28, 1958 – The greatest game ever played – Baltimore Colts Alan Ameche run through the defence and Jim Patton from the New York Giants and scored the winning touchdown in overtime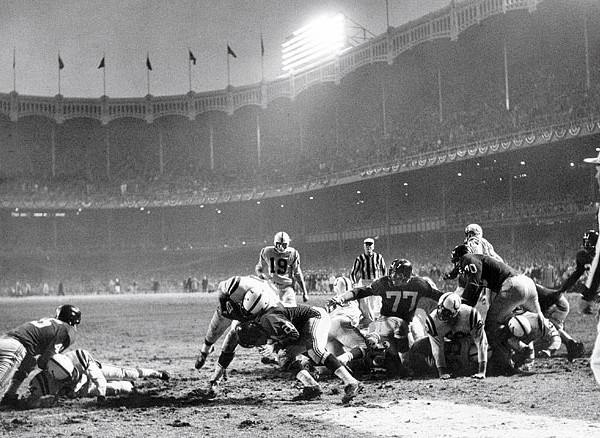 35 : Vasily Alexeyev – Clean & Jerk, January, 1969 – Considered the greatest heavyweight weightlifter of all time , Vasily Alexeyev from Russia have set 80 world records during the years 1970 and 1977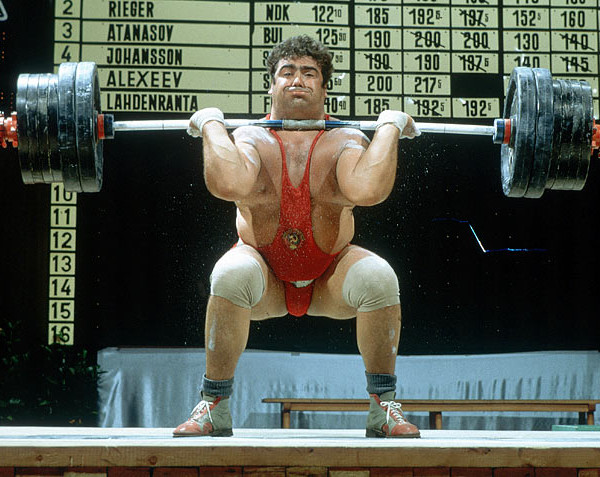 36 : 1960 world series , Pittsburgh Pirates Fans –  Oct. 13, 1960 – This great shot of the students in the Pittsburgh University looking down on Forbes field standing on the top of their cathedral on campus, this game was the first championship that the Pirates have won in over 35 years against the New York Yankees . Bill Mazeroski hit the very first home run in world series history during game 7 of this series
37 : Muhammad Ali and Cleveland Williams – Nov. 14, 1966 – In a record-setting venue with 35,460 fans, Ali knocks out his opponent Cleveland 'Big Cat' Williams in just three rounds at the Houston Astrodome and defends his title of the heavyweight champion of the world  in November 1966.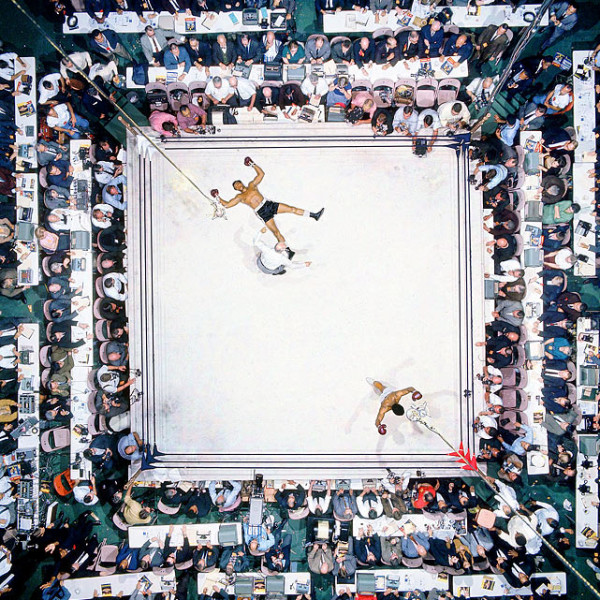 38 : Flying man Dennis Rodman – Pacers at Bulls, March 7, 1997 – Winning his sixth title as the best rebounder during the 1996-97 season with average of 16.1 rebounds a game , Bulls power forward Dennis Rodman leaps at a ball in a game against the Pacers in the United Center arena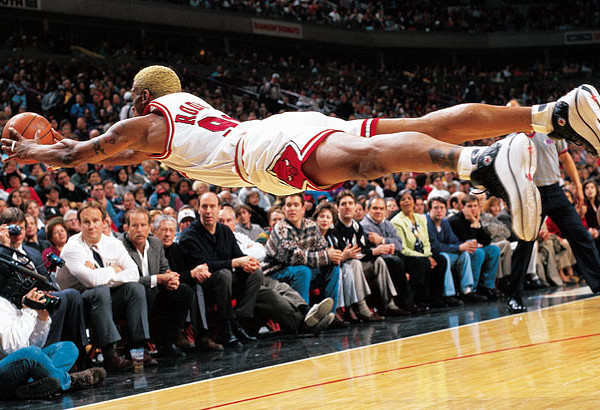 39 : U.S. Hockey – 1980 Olympics, Feb. 22, 1980 –  The USA hockey team has done the impossible at the time by wining 4-3 against the soviet Union on a Mike Eruzione's goal and advanced to the gold medal game which they also won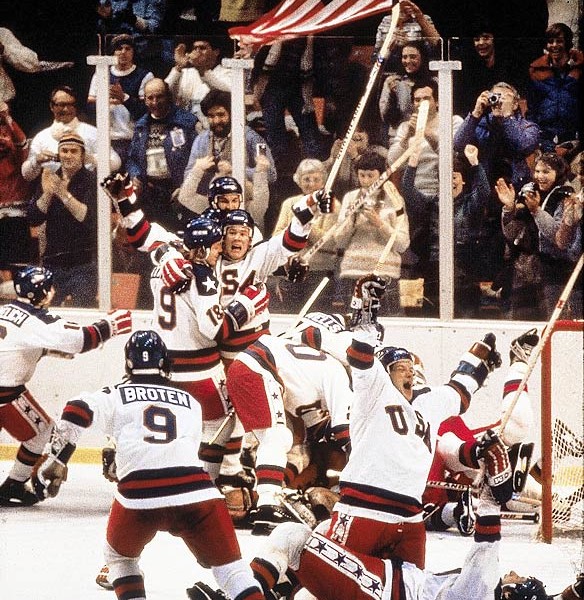 40 : Randy McMichael – Saints at Dolphins, Aug. 15, 2002 – Randy McMichael the tight end of the Miami Dolphins go's flying over everybody to score a touchdown in a preseason game against the New Orleans Saints , this rookie would go and catch 39 passes for 485 yards during a 16 games season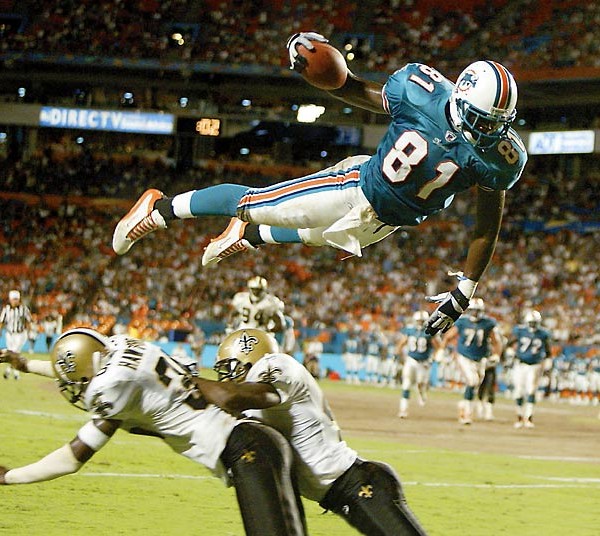 41 : Bill Russell and Wilt Chamberlain – April 5, 1968 – Two NBA giants , Bill Russel on the Boston Celtics and Wilt Chamberlain of the Philadelphia 76ers fighting for the ball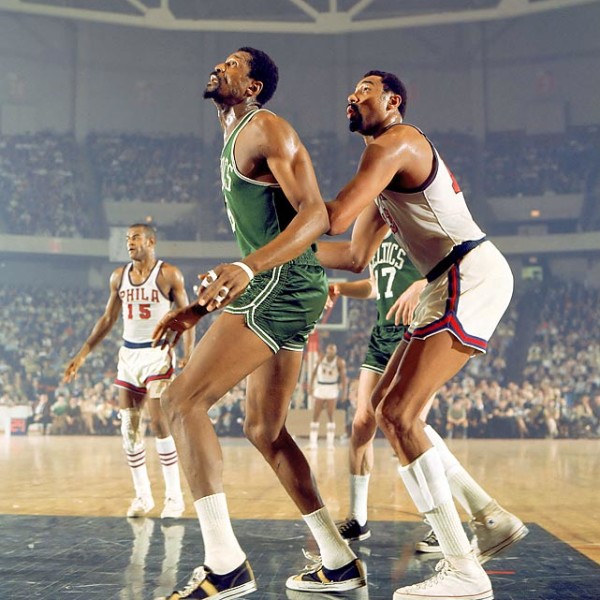 42 : A powerful image of Tommie Smith and John Carlos – Summer Olympics, Oct. 16, 1968 – For this statement both Tommie Smith (center ) and John Carlos ( right ) got kicked out of the summer olympic games , they have just won the gold (smith ) and bronze medals ( Carlos ) and when standing on the podium they put on black gloves and made a fist to the sky signifying their support to the black power movement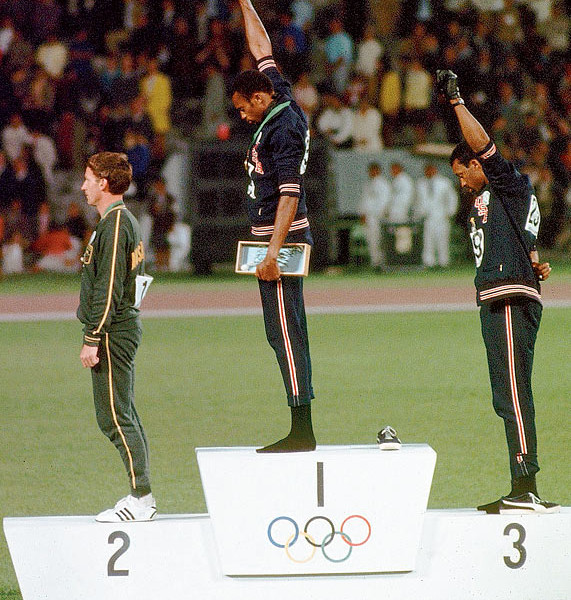 43 : Joe DiMaggio – Yankees at Senators, June 29, 1941 – Joe DiMaggio during the Washington Senators game , he had an MVP season hitting 357 with 30 home runs and 125 RBI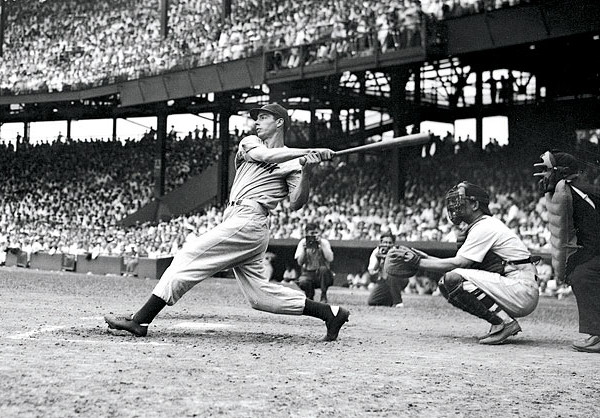 44 : Casey Sanders and Julius Peppers – Chapel Hill, N.C., March 4, 2001 – Julius Peppers at the Dean E. Smith Center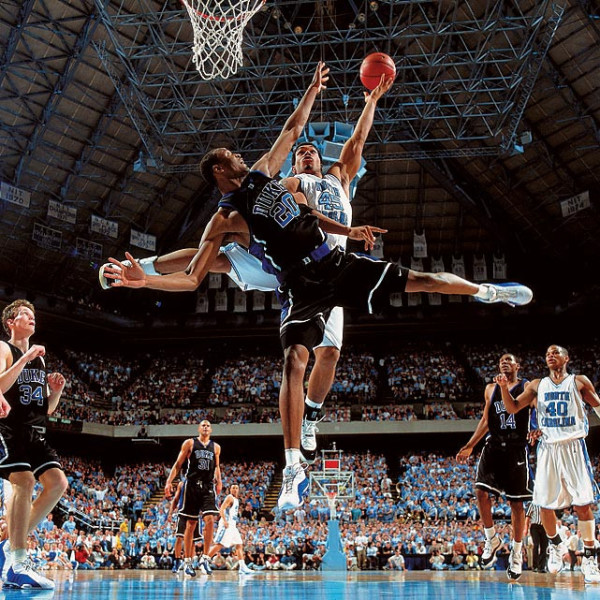 45 : John Havlicek and Chet Walker – Eastern Conference Finals, April 15, 1965 – Boston Celtic guard John Havlicek steals the ball from the Philadelphia 76ers to secure the win 110-109 , the Celtic would go on to the NBA finals where they defeat the Los Angels Lakers in five games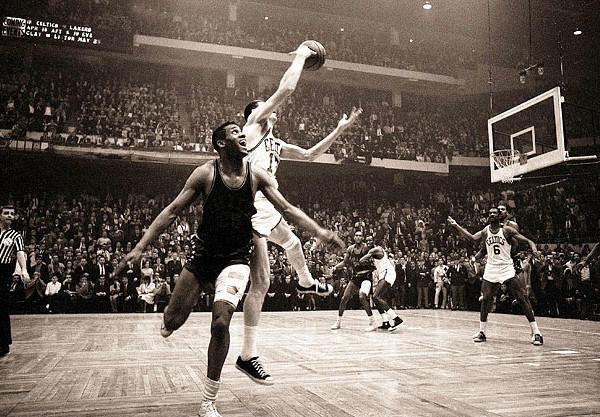 Source : imgur