When Ben was 6 years old, both he and his parents JC and Kim Baltz learned that he would need to have his leg amputated after a cancer diagnosis, the couple soon looked forward to the day when Ben would beat the osteosarcoma and they will adjust to the " new norm "
What they didn't know and no one expected, was that their son would inspire amputees, cancer patients and millions of other people around the world to live an active and meaningful lives.
The young boy, now age 14, has made it to the headlines a few times before when he bond with a three legged pony named Molly and when he was carried over the finish line by a marine after his prosthetic leg gave out during a triathlon. Ben was back in the headlines recently when a photo of him and his dad JC running together in the rain went viral.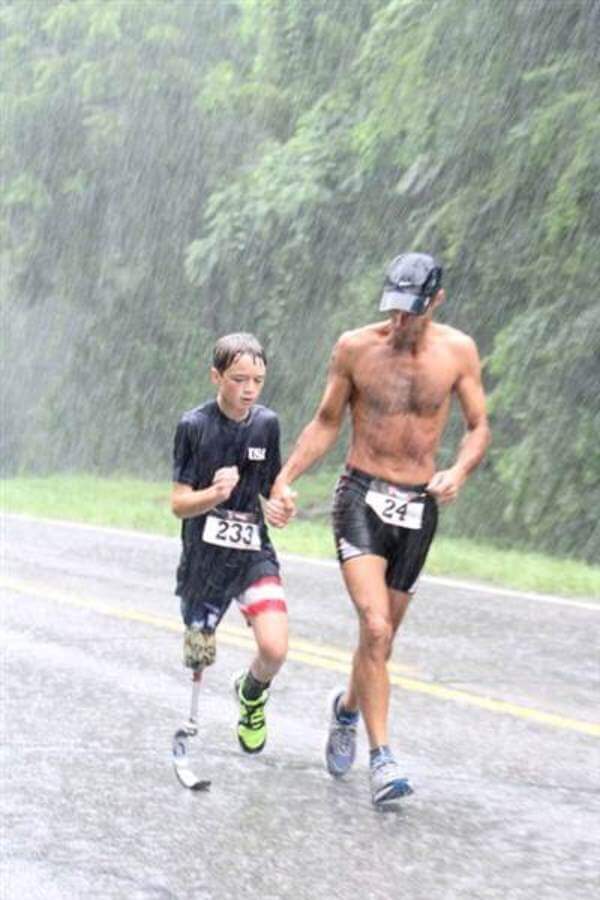 JC and his family lives in Valparaiso, Florida said his daughter Rachel was the one to take the picture and she submitted it to a Runner's World photo contest, the image was disqualified because Ben was under the age of 18 but the photo got a lot of attention and responses. Ben's dad says the photo was taken in 2013 during a triathlon and Ben was just 12 years old. Ben is no stranger to triathlons and has already run in 10 of them over the years, but the combination of swimming and running in the cold rain had exhausted him, and he needed some support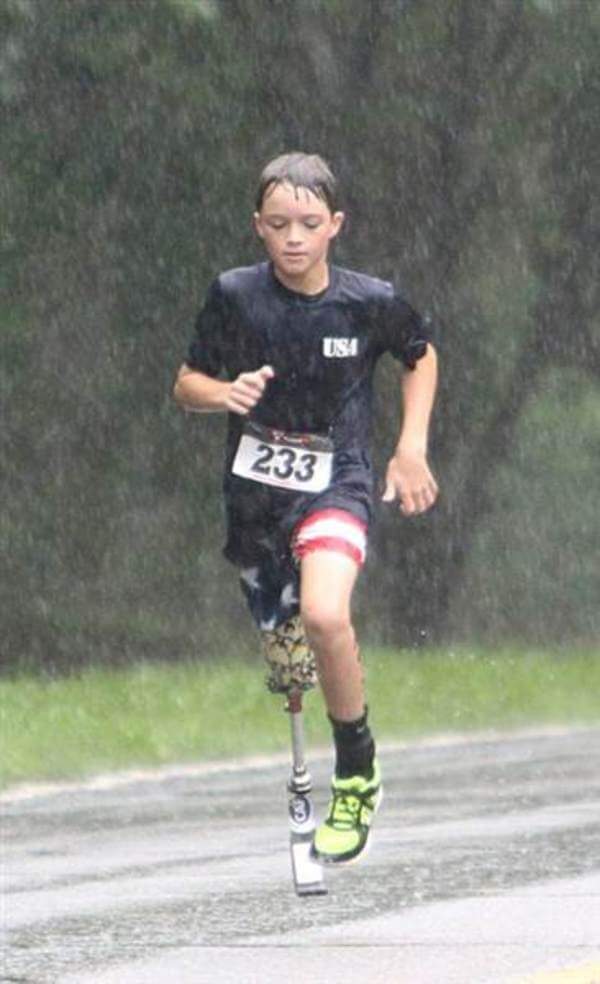 " He was tired, so i decided to run with him to get him going, I am not surprised he is inspiring others and encouraging others to lead an active life. If looking at that photo doesn't make you want to be in shape and disregard whatever you feel is holding you back, then nothing will"
JC says his son is an inspiration off the race track as well, and he takes time to visit newly diagnosed osteosarcoma patients and recent amputees to help them deal with their new situation.
" He shows them there is life with an amputation, We will never know the number of lives our son has touched with his story, but we pray it will encourage them to help others and thank God  for the blessings of what they are able to do "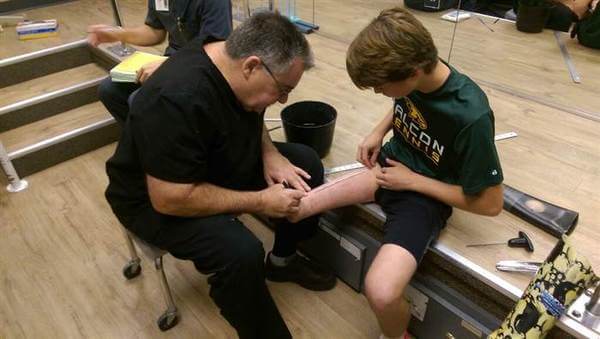 " I never thought I would ever get cancer, never had heard of cancer until I got it, and never thought i would be able to keep participating in triathlons. But all of those came out to be true and here I am, cured of cancer, running, biking, swimming and even surfing. My amputation hasn't stopped me, or even slowed me down. It only brought me obstacles, all of which i have overcome "
Source: link