I'm a huge fan of a smoker, what about you?! Everything gets better coming out of it, don't you agree? Okay, besides things that are prone to quick drying of course. Chicken drumsticks are especially great for a smoker – they absorb the smoke really well and do not dry out at all. The only problem that may occur when it comes to chicken drumsticks and a smoker is that the skin can be a little rubbery. To deal with this problem, in a most delicious way ever, we recommend you this awesome recipe from The BlackPeppercorne – Chicken Legs Wrapped In Bacon Smoked and yummy AF!
Chicken drumsticks done this way seem so amazing and delicious and the initial idea makes you thrilled of joy just by thinking of this combination. So, cute, playful name Chicken Lollipops fits perfectly to this recipe. Check out the full chicken legs wrapped in bacon recipe below.
Ingredients:
10

 

chicken drumsticks

1/3

 

cup

 

soy sauce

1/4

 

cup

 

brown sugar

3

 

tbsp

 

oil

3

 garlic cloves,

minced

1/2

 

tsp

 

cayenne pepper

10

 

slices

 

of bacon
This is the end result of the Chicken Legs Wrapped In Bacon Recipe, and if you don't fu** this up, it should look like this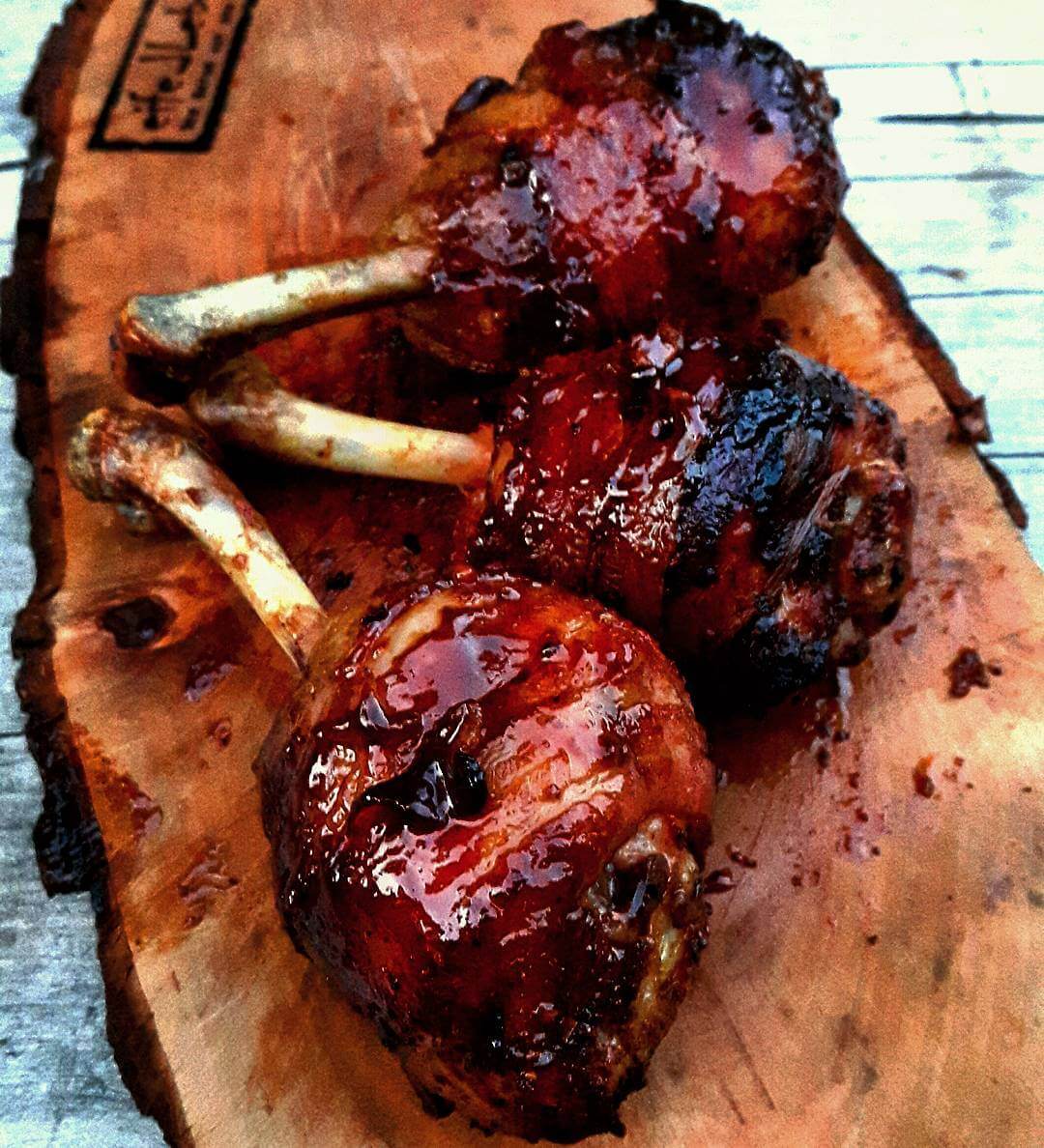 Follow these steps:
–ad–
1. Peel the skin off the chicken drumsticks.
2. Mix together the soy sauce, brown sugar, oil, garlic, and cayenne. Pour over chicken and toss to coat evenly. Place in the fridge to marinate for 1-2 hours.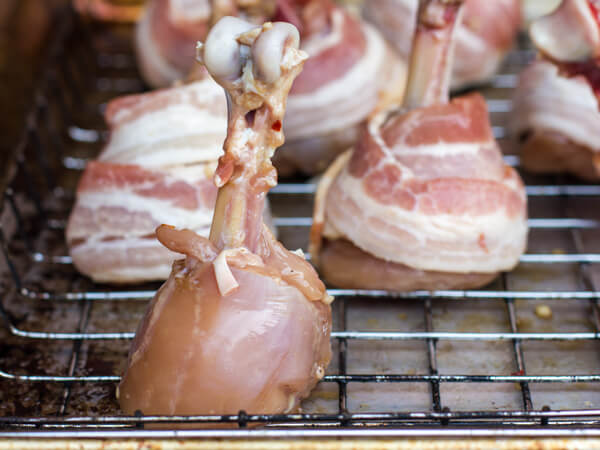 3. After marinating, drain the chicken.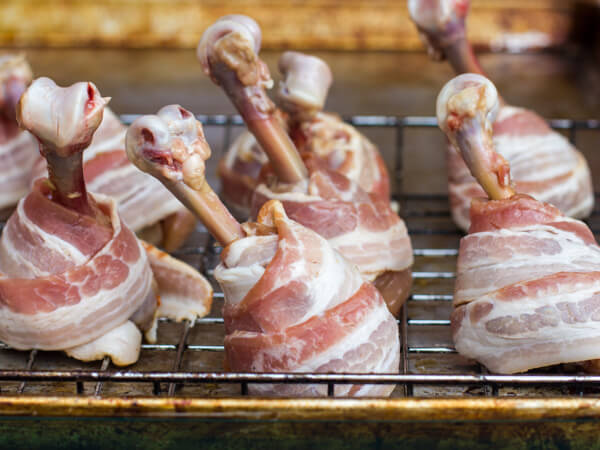 4. Cut around the bone close to the knobby end of the drumstick. Cut through the meat tendons and sinews and then press the meat down firmly to form a lollipop. Pull the skin and cartilage off the knobby end of the drumstick and clean it up with a knife or kitchen scissors.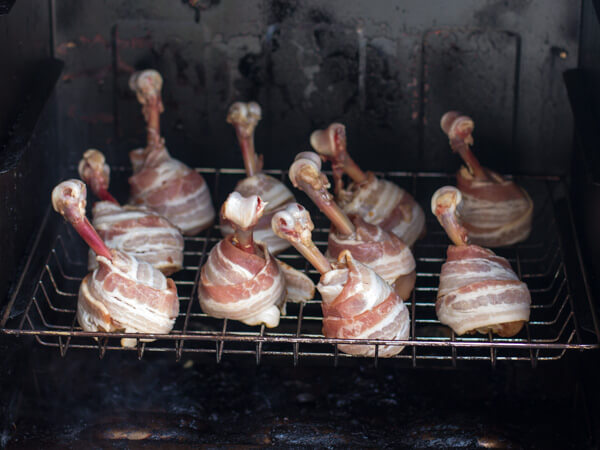 5. Wrap a slice of bacon around the meat of the chicken drumstick. You should be able to wrap the bacon around twice.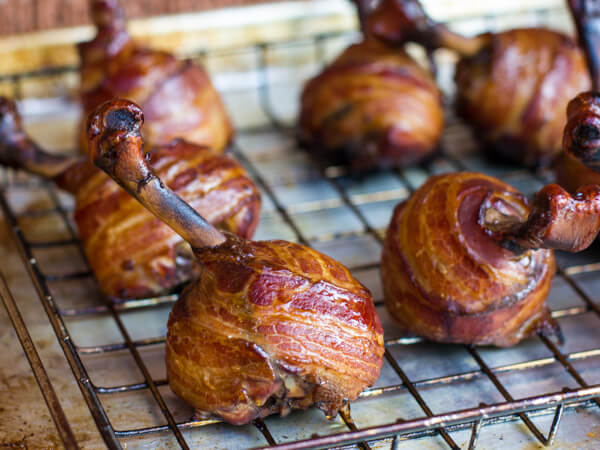 6. Set the smoker to 250F.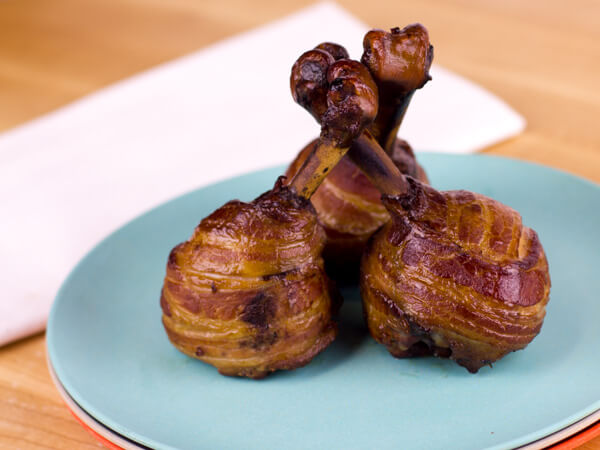 7. Gently place the lollipops on the smoker rack so that the bacon does not unwrap.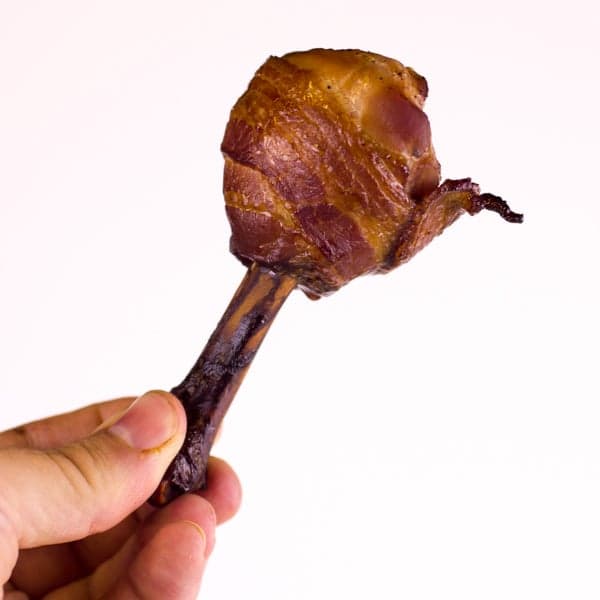 8. Smoke the chicken for about 2 hours, or until the bacon is browned and the chicken is no longer pink and the juices run clear.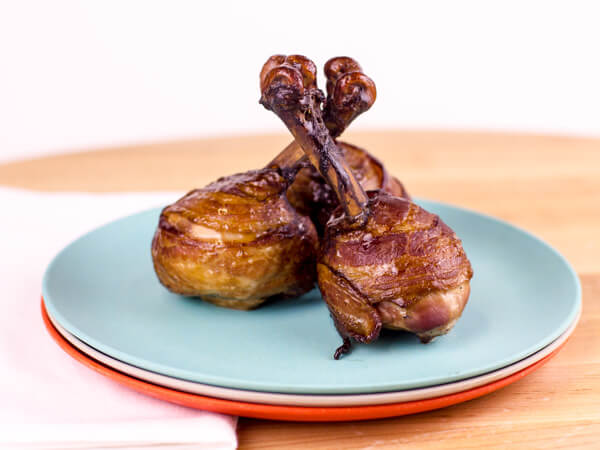 If you found this chicken legs wrapped in bacon recipe to be awesome as we think it is, please share with your friends.
Source: link