Nature is one of the most surprising things in the world, it does a lot of things – it creates the most beautiful views, flowers, trees. Some of the nature's most beautiful things are the trees, there are various shapes, colors and they are truly our best friends. Here we bring you the most beautiful trees in the world! just browse down the list and get lost in their colors and shapes.
1. 125+ Years Old Rhododendron Tree In Canada, kicking off the most beautiful trees in the world list the right way.
A beautiful old Rhododendron tree, which is full of truly beautiful flowers. This tree really knows how to leave people speechless for a second.
2. 144 Years Old Wisteria Tree In Japan
Japan is known for having various kinds of trees, this one is a real celebrity among them.
3. Wind-Swept Trees In New Zealand
Wind-Swept trees look like they have just got swept by the wind, but in real… these have been like that for a long time, beautiful!
4. Angel Oak Tree In John's Island In South Carolina
A real art created by the nature, don't you think?
5. Flamboyant Tree In Brazil
A tree which really livens up the atmosphere as soon as it is seen by people. No wonder why!
6. Dragonblood Trees In Yemen
A great sun protectors of Yemen, lovely looking trees which are shaped in a rather weird way.
7. Maple Tree Tunnel in Oregon
A breathtaking tree tunnel which will stay in your memory forever once you walk through it. Beautiful!
8. Rainbow Eucalyptus In Kauai, Hawaii
This Eucalyptus looks like the colors have been splashed all over it, hence the name 'Rainbow'. Looks artistic and very eye catching!
9. Jacarandas in Cullinan, South Africa
If you love purple as much as I do, you will want to see these trees. Who wouldn't want to walk on a path covered in purple?!
10. Avenue Of Oaks At Dixie Plantation In South Carolina
These oaks look like they are bowing to your presence, beautiful trees, view and experience guaranteed!
11. Baobab Trees In Madagascar
Just as you have seen on the TV, Baobab trees are a real attraction when seen, now you know why!
12. The Dark Hedges In Northern Ireland
If you are a fan of dark forests, try visiting the dark hedges. This looks creepy, but it is actually amazingly beautiful!
13. Banyan Tree
Banyan tree is a strange looking tree, yet so beautiful. It looks like it just wants to go everywhere.
14. Blooming Cherry Trees in Bonn, Germany
Cherry trees are awesome, that's a fact. Look at this beautiful tree and view that you can see if you visit Bonn!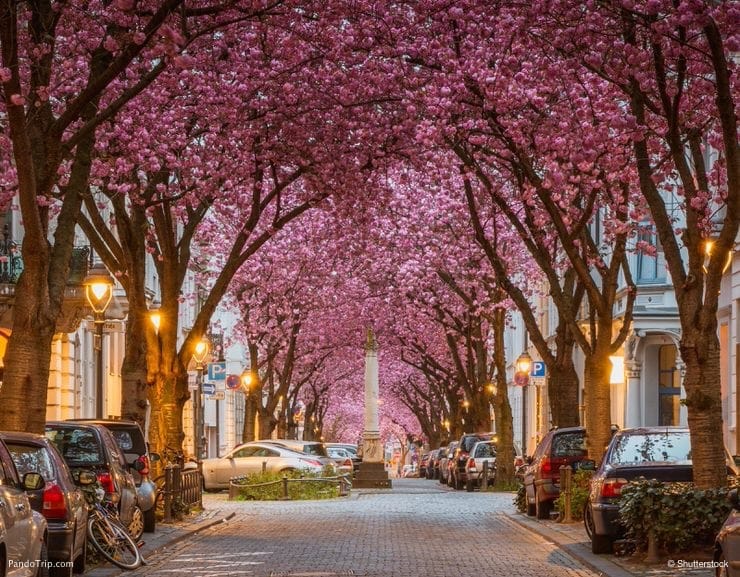 Which of these beautiful trees we listed do you like the most? Do you maybe own a strangely looking tree?